New i4 by Nitecore Review
Hello Wild Vaper's
today I wanted to show you one of the chargers I'm using at the moment.
The new i4 by Nitecore.
As soon as you enter the world of tube or boxmods you will get introduced to the all mighty 18650 batteries (Or the possible successor 20700).
They are the reason some scary videos appeared about vaping.
If you don't use the right battery, don't protect it correct or just charge it wrong it can become a mini bomb. 😀
Thats why I like to use intelligent chargers like the new i4 by Nitecore.
They don't simply send a current into the battery, until it reaches 4.2 Volt.
The new i4 is more like a little Batterie-Lab, which analyzes the battery you plugged in and chooses the right current to charge it.
It also has all the protections you would wish:
polarity protection
short circuit prevention
Overcharging timeout protection
automatic identification of non-rechargeable Lithium batteries
Inputs
AC 100-250V
50/60Hz
0.25A(MAX) 10W
DC 9-12V 1A
Outputs
4,35V +/- 1%   /  4.2V +/- 1%
3.7V +/- 1%   /   1.48 +/- 1%
1.5A x1 / 0.75A x2 /
0.5A x2 / 0.375 x4
Like you can see the Max Amper output with 4 batteries is 0.375, meaning that to charge 4 batteries you will need much more time, than if you only charge a single one.
Compatible with: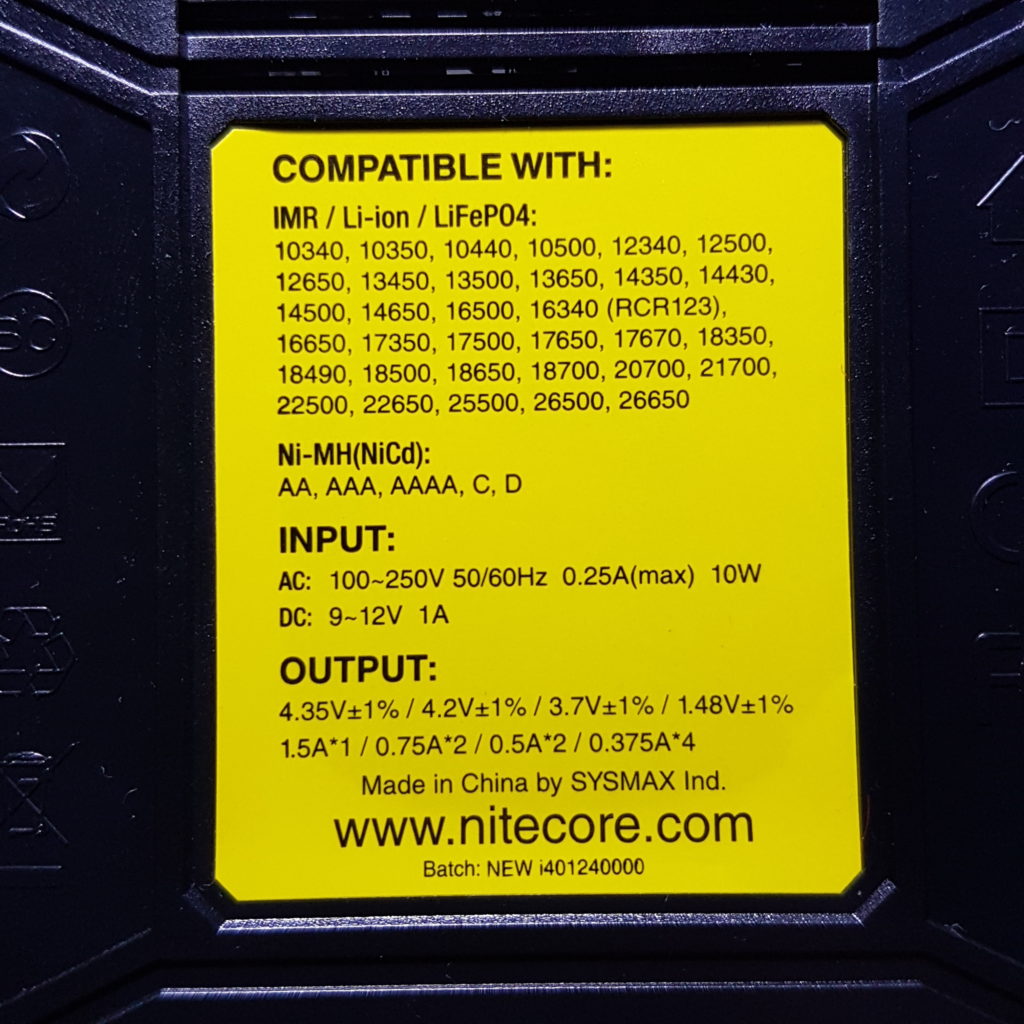 What I like
The new i4 by Nitecore is a simple looking charger but with a big brain.
I like it, that you can plug in your batteries and have no need to worry if you plugged them in wrong, if they are over discharged or even they can't be recharged any more.
It is light weight and with his DC connection also prepared for your travel adventures.
Also great is the simple way to set up the settings
You only have 2 buttons which let you adjust the Current and the Voltage if you prefer to do it manual.
What I don't like
Their is nothing I really don't like.
Only something you should consider when charging batteries not only with this charger.
The charger can get pretty warm specially when you are charging 3-4 Batteries.
Thats why you should NEVER cover a charger or put it on flammable surfaces.
But this is something to know about all multi 18650 chargers.
Conclusion
So if you are looking for a charger to cover the high energy demand of your mods the new i4 by Nitecore is definitly one to consider.
It does his job and is not to expensive.
Where to buy:
UK: Amazon  (£17.33)
Asia: Click HERE (22$) (15% discount with WWV15)